SUNDAY – #DAY 1
13:00PM – LUNCH ON THE ROAD TO CARE's
At the foot of the Dolomite Mountains arriving by car courtesy of Audi, the first leg of the Ethical Days Chefs took place in Trento where guests arrived at Italy's famous Sparkling Wine brand Cantine Ferrari. A welcome light lunch with dishes by Alfio Ghezzi of Locanda Margon combined with the new Perlé Zero Trentodoc to celebrate. Dishes such as earth snails, char and snails of kamut Monograno Felicetti dressed with tuna and coffee powder. There was also a mountain market showcasing excellent products including honey, saffron beer, cured trout, marmalades and flour.  Afterwards, a visit to the cellar took place, which for the classic method is the largest in Italy, led by Matteo Lunelli President & CEO and Stefano Medici, Ferrari's Head of Marketing, together with the chefs Norbert Niederkofler and Giancarlo Morelli, creators of CARE's gave their warm welcome to the guests, reminding us that "we will not change the world, but surely we can give our contribution". Norbert Niederkofler provided a brief summary of the program ahead colleagues and friends.
19:00PM – SUSTAINABILITY IN THE WORLD OF SPARKLING WINES
Once everybody had checked into their hotels, it was time to move to Hotel Fanes in San Cassiano where Essi Avellan, a master of wine and a specialist of champagne provided a talk and demonstration on the new methods and processes being used in the world of wine to evolve production in a more ethical and sustainable way. The talk, sponsored by Cantine Ferrari was an excellent way to whet the appetite for the opening dinner at Rosa Alpina Hotel & Spa.

20:00PM – CARE's WELCOME DINNER, Rosa Alpina Hotel & Spa
Guests and press took part in the Welcome Dinner dedicated to the mountains of Cortina and Bolzano accompanied by local wines of Alto Adige, Beer by Benediktiner Weissbier and Ferrari sparkling wines. The dishes included elegant dishes such as Risotto with marinated nettles, char, hemp oil, almonds and Resia garlic by Theodor Falser and Conchiglione Matt Monograno Felicetti, char, Jerusalem artichoke tea, Pinova Alpine apple and green celery powder by Martin Mairhofer. The dishes were created at stations postioned around the various dining rooms at Rosa Alpina Hotel & Spa. Guests moved around tasting the dishes made by the regions most celebrated chefs. To close the offering, Chef Andrea Tortora put on a show stopping pastry,
23.00PM – CARE's AFTER DINNER PARTY, Bar Cristallo
After dinner there was the traditional After Dinner party at Bar Cristallo, with music, and a selection of cocktails from BULK, the bar from restaurant Morelli where they used Prime Uve to create unmissable cocktails such as "the new beginning". Chefs and guests danced all night in celebration of the first day.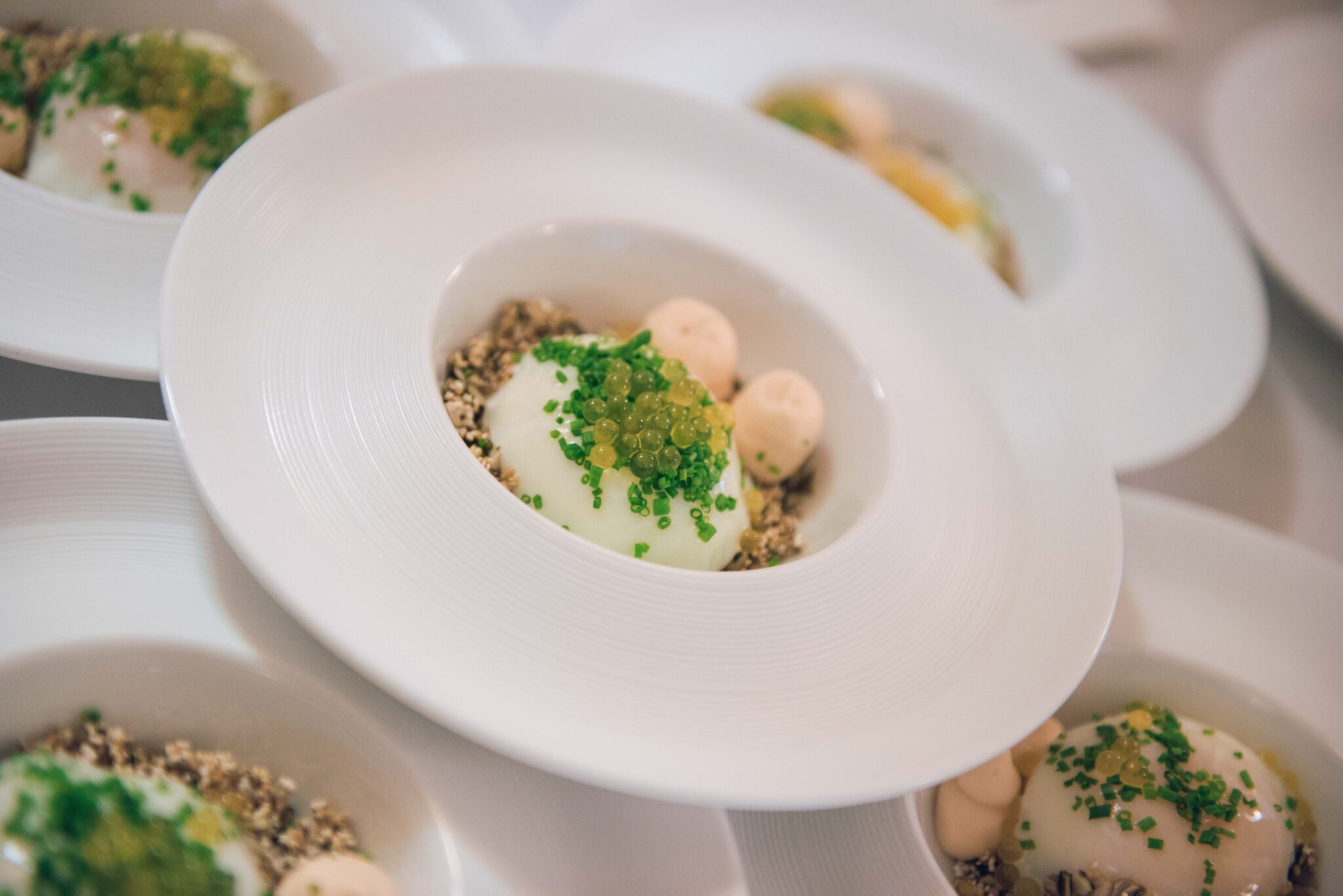 Dish by Alfio Ghezzi – Lunch on the Road to CARE's @ Cantine Ferrari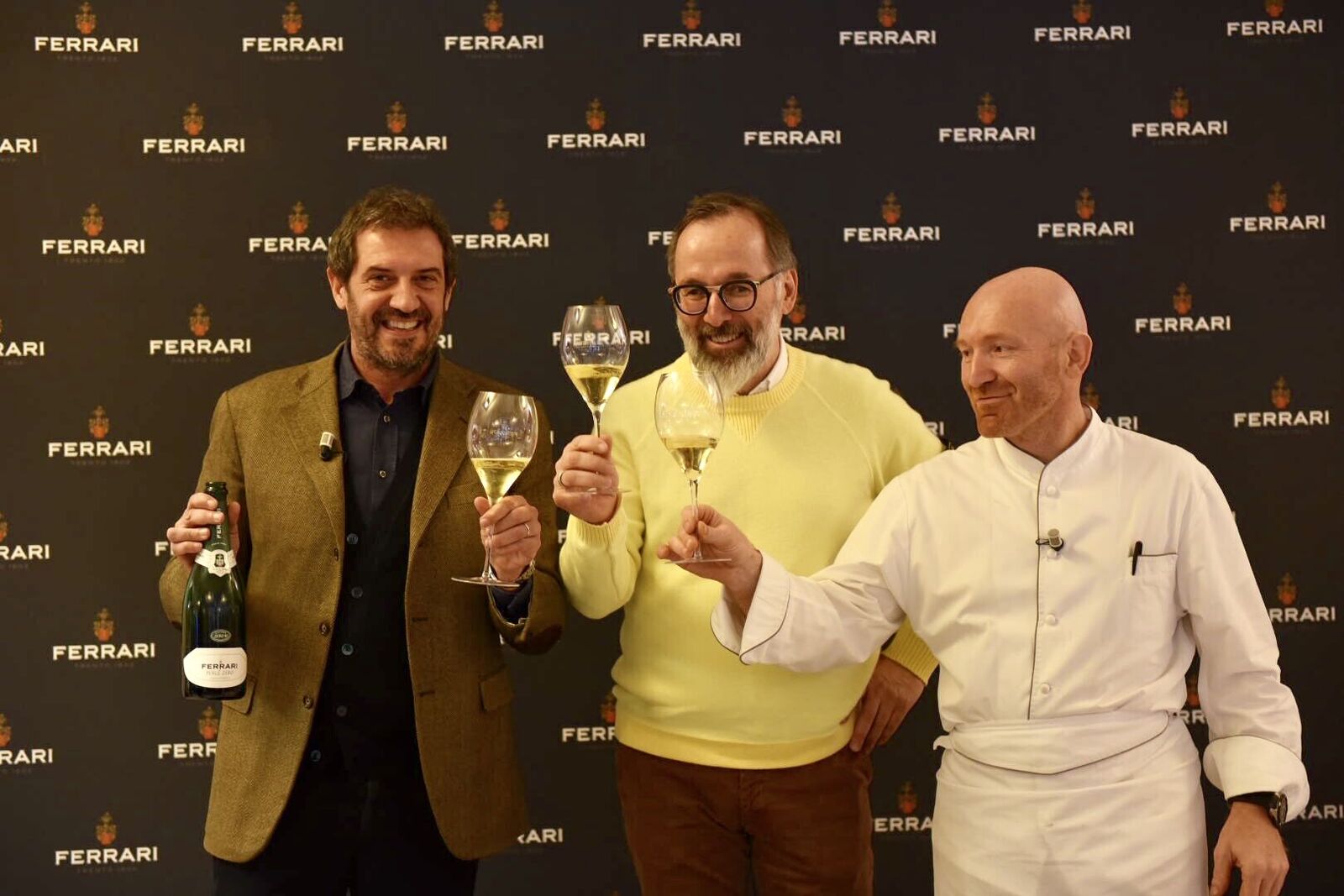 Baniamino Garofalo, executive director of Cantine Ferrari, Norbert Niederkofler, chef of St. Hubertus, Alfio Ghezzi, chef of Locanda Margon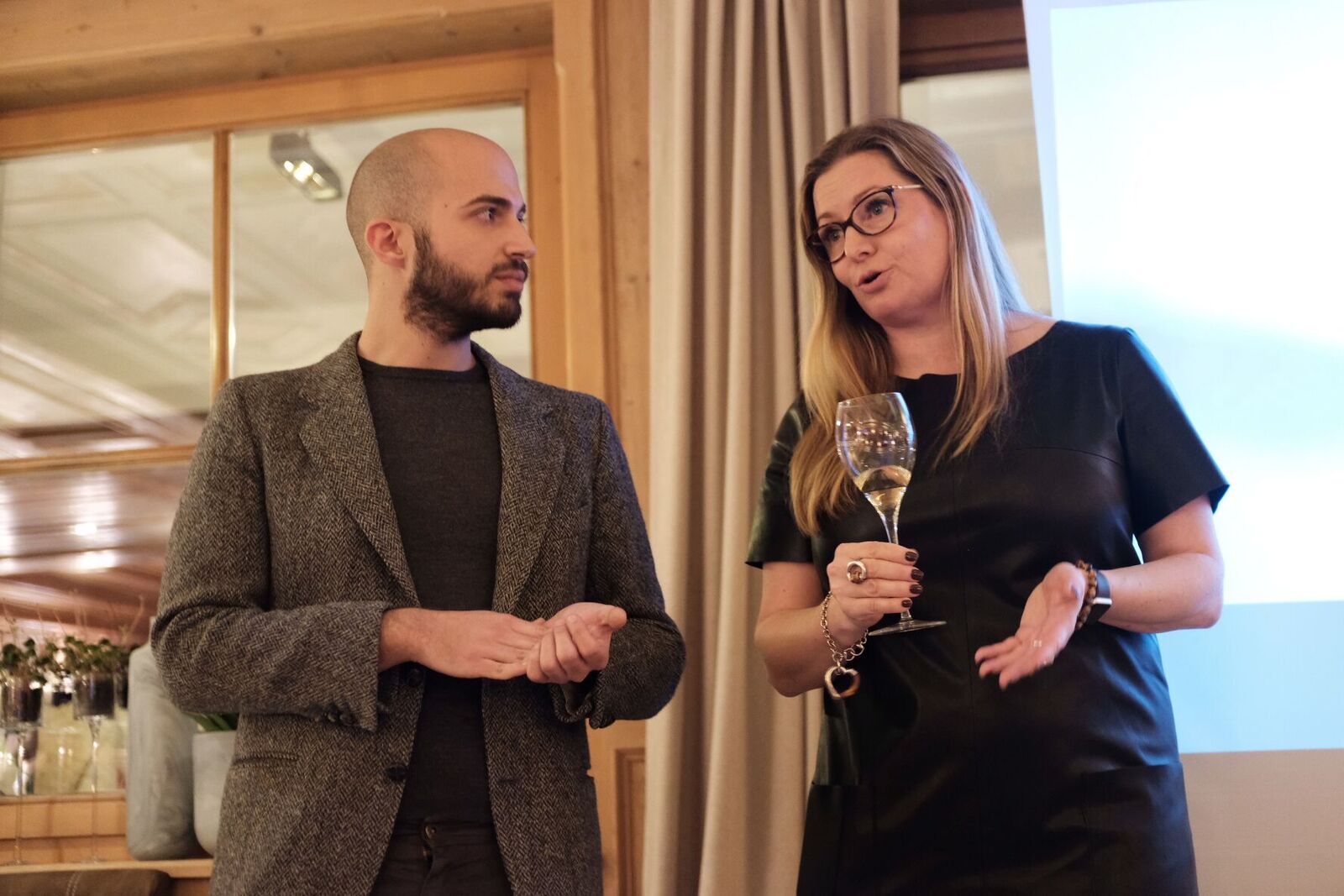 Paolo Vizzari and Essie Avallan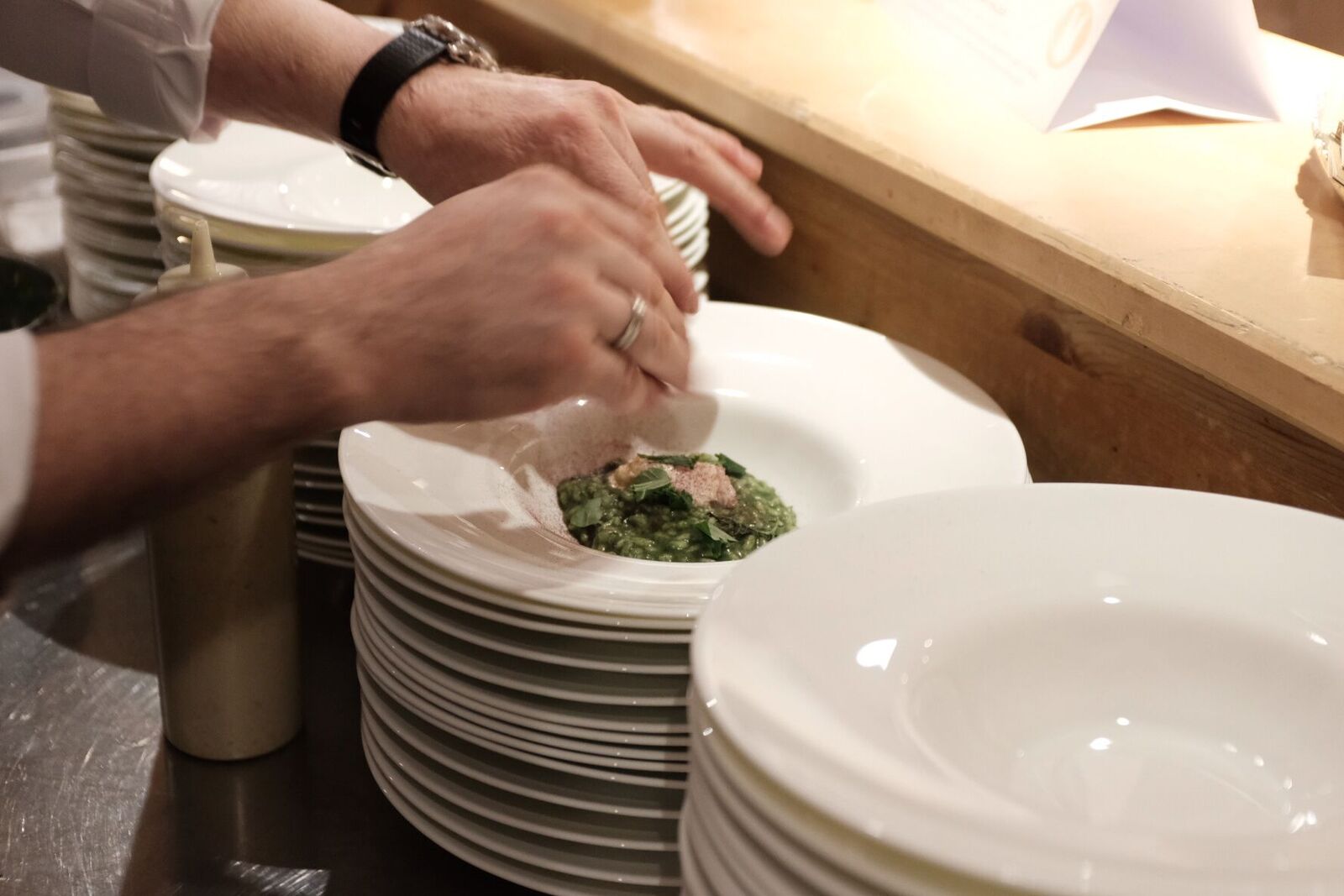 Theodor Falser, Risotto with marinated nettles, char, hemp oil, almonds and Resia garlic