WEDNESDAY 17 – #DAY 4
6.30 | BREAKFAST AT SUNRISE
RIFUGIO COL PRADAT
Early morning departure for the most daring at 6.30. At an altitude of 2038 m. breakfast with Lavazza coffee and pastries of Andrea Tortora, St Hubertus (along with some Agrimontana products) waiting for the sunrise.
At 7.45 the sun began to appear behind the summit and the view were really impressive. Suddenly, as expected, it began to snow and everything was covered by a light blanket of snow: the mountain is like this, sudden changes in weather. The dramatic changes of weather are most impressive to see in Alta Badia and South Tyrol.
Two cooking MasterClass to which one could attend, one dedicated to traditions and the other to fermentations, both themes that have proved to be important in the winter edition 2018.
Some repeated activities at the Maso Runch and the horse carriage ride took place on Wednesday. Some were also at lunch at the Las Vegas Rifugio where at the end of the meal they were caught by a blizzard.
At the Las Vegas Rifugio they cooked
Alfio Ghezzi
Locanda Margon, Trento
Potato and hemp potato dumplings, Graukäse and gin
Ivan Matarese
Viel dal Pan, Porta Vescovo of Arabba (BL)
Tortelli stuffed with polenta, liver pâté, pecorino cheese and black pepper
Liam Tomlin
Chefs Warehouse, Cape Town – South Africa
Vitello tonnato
Andrea Tortora
St Hubertus, San Cassiano
Salted caramel 
10.00am – 12.00am COOKING MASTERCLASS: TRADITION
CIASA DLA CULTURA, THE VILLA
4 chefs interpreted the union of tradition and innovation according to an ethical and sustainable philosophy.
Tomaz Kavcic
Pri Lojzetu, Vipava – Slovenia
Rice not rice and trout tasting with powdered tomatoes, carrot and parsley
Ivan & Sergey
Twins Garden, Moscow – Russia
Eco System
Maksut Askar
Neolokal, Turkey
Hummus, quail eggs and Anatolian landscape
Filippo La Mantia
Filippo la Mantia – Oste and cook
Macco of beans with pasta 
15.00 – 17.00 | COOKING MASTERCLASS: FERMENTATION
CIASA DLA CULTURA, THE VILLA
3 chefs presented the art of fermentation with ethical and sustainable techniques.
Michele Lazzarini (St Hubertus): Snails and black garlic
Antonia Klugmann (L'Argine a Venco, Dogna del Collio) Head of cuttlefish and its fermented sauce and broccoli
Valeria Mosca (Wood-ing G. Desio) Auricularia auricula- giudae, seaweed and perfumed heart
4.00 – 5.00 pm WORKSHOP MIXOLOGY
HOTEL CRISTALLO, THE VILLA
Mixology lesson with Bartender, sponsored by Bonaventura Maschio 
20.00 | FINAL DINNER
HOTEL ROSA ALPINA
In an atmosphere of pleasant conviviality and perfect for networking, in the elegant and welcoming spaces of the Rosa Alpina, already the scene of the first Welcome Dinner, the gala dinner took place, with the chefs who cooked stations around the restaurant, kitchen and library.
Paul Ivic (Tian, ​​Vienna – Austria), Fiss Barley, fir, egg – in which the fir tree has well symbolized the mountain of Care's; Jan Hendrick Van der Westhuizen (Jan, Nice – France), Bucco, cucumber, blackcurrant, bucco caviar – bringing guests a taste of his South African falvours, similar to roiboos: Lorenzo Cogo (El Coq, Vicenza) prepared a "Risotto" of Jerusalem artichokes, horseradish, bottarga, which astonished with its decisive flavours (the grated horseradish and the savory tuna lard); Takeshi Iwai (Ada and Augusto, Gaggiano (MI), prepared smoked ravioli with red turnip, black truffle and almond yoghurt, while Maksut Askar (Neolokal, Istanbul-Turkey) worked on the value of CARE's with local pork shoulder and chard sarma, apple and wheat "üveyik", lamb sauce, pickled melarose
Surprising Michele Lazzarini (St Hubertus, San Cassiano) who proposed Pomodoro, a bruschetta with tomato sauce and basil sauce, which was actually a plum sauce.
To close in sweetness Diego Crosara & Andrea Tortora (Chef Pâtissier, Agrimontana – St. Hubertus, San Cassiano) who have spoiled everyone with crispy praline Millefoglie and the incredible chocolate buffet.
At the end of the dinner and service the famous Panettone by Andrea Tortora was shared.
To accompany the whole dinner in addition to Acqua SanPellegrino and AcquaPanna, sparkling Ferrari and an interesting selection of wines from the Alps and South Tyrol.
23.00 | AFTER DINNER PARTY
HUG'S BAR
To endorse the official closing of CARE's, the dance party where at midnight a delicious pasta dish by Monograno Felicetti was given to the guests of CARE's together finally after a long and enjoyable week including chefs, sponsors, journalists, friends and all those who have made it possible to carry out this very complex logistics event. Everyone danced until late at night together with chef Niederkofler, chef Morelli and Paolo Ferretti, the creators of CARE's, while outside it continued to snow copiously.
See you at the next edition of CARE's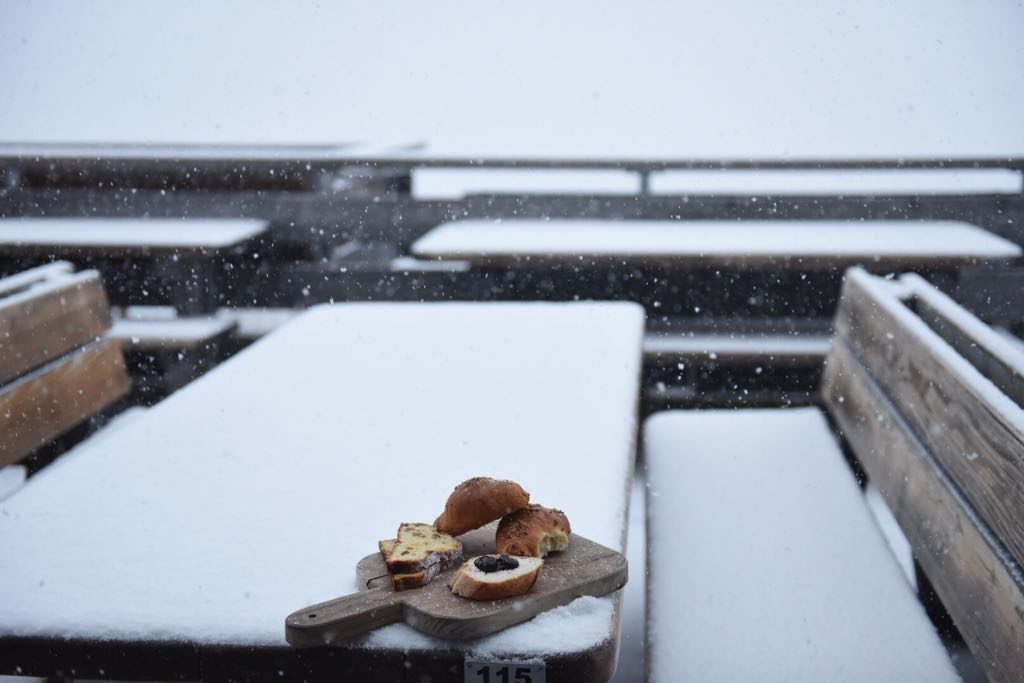 Breakfast at Sunrise, Col Pradat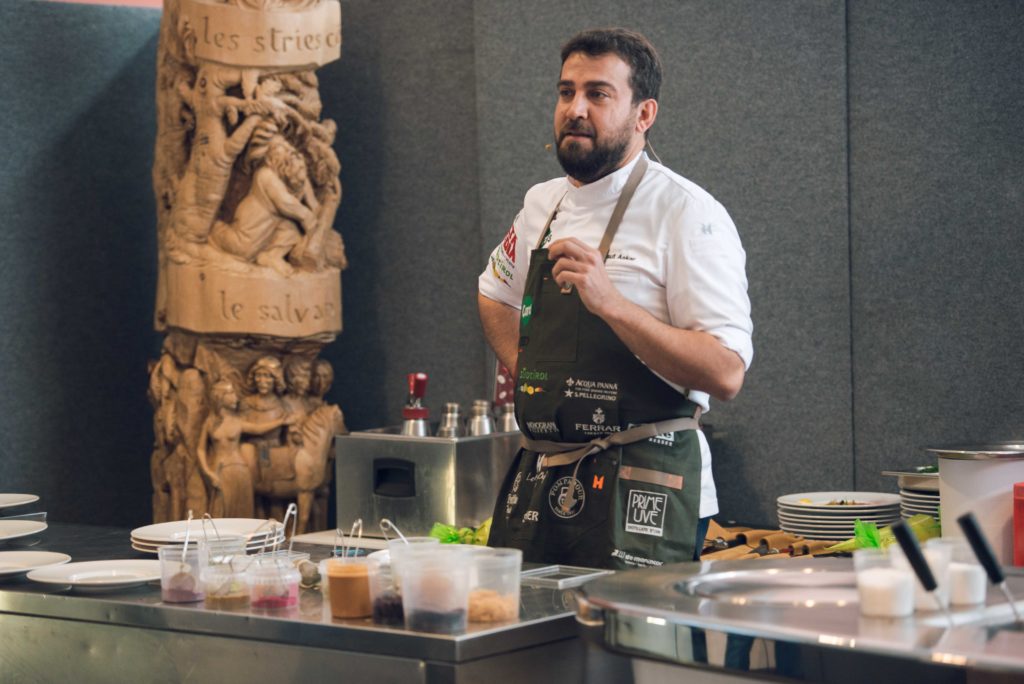 Maksut Askar, Neolokal, Turkey, at the Cooking Masterclass Tradition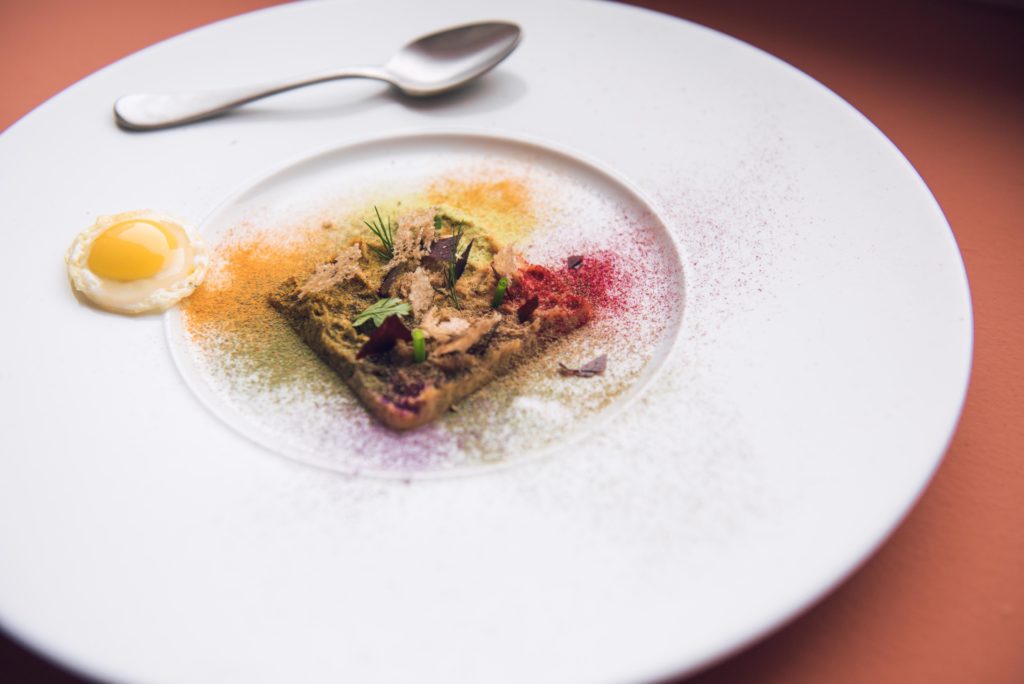 Maksut Askar, Double baked tahini hummus, quail egg and Anatolian landscape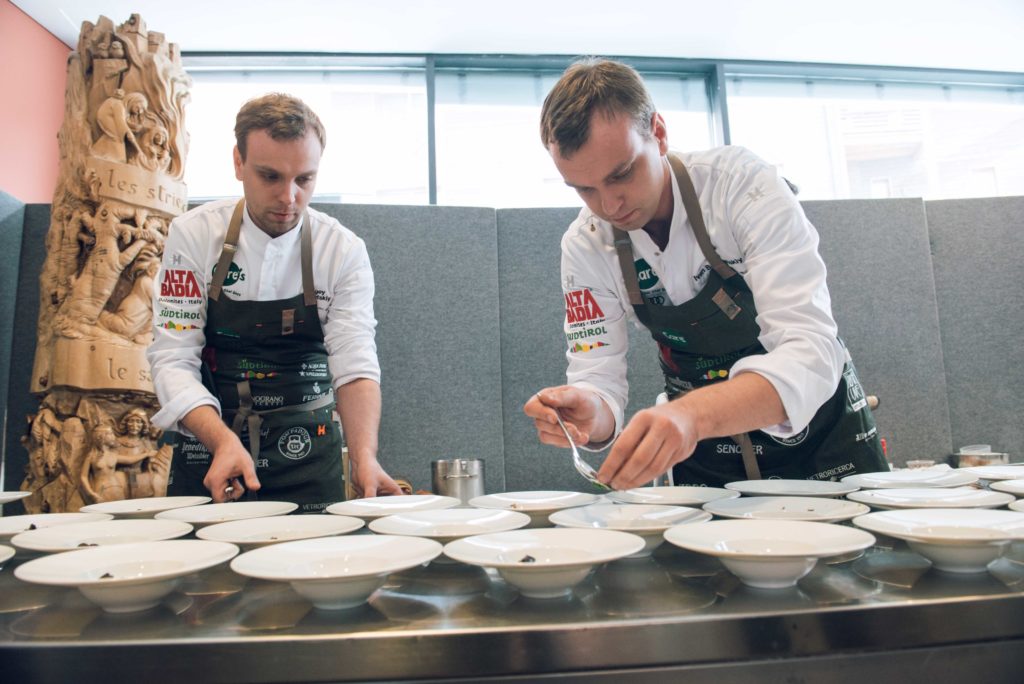 Ivan & Sergey Twins Garden, Moscow – Russia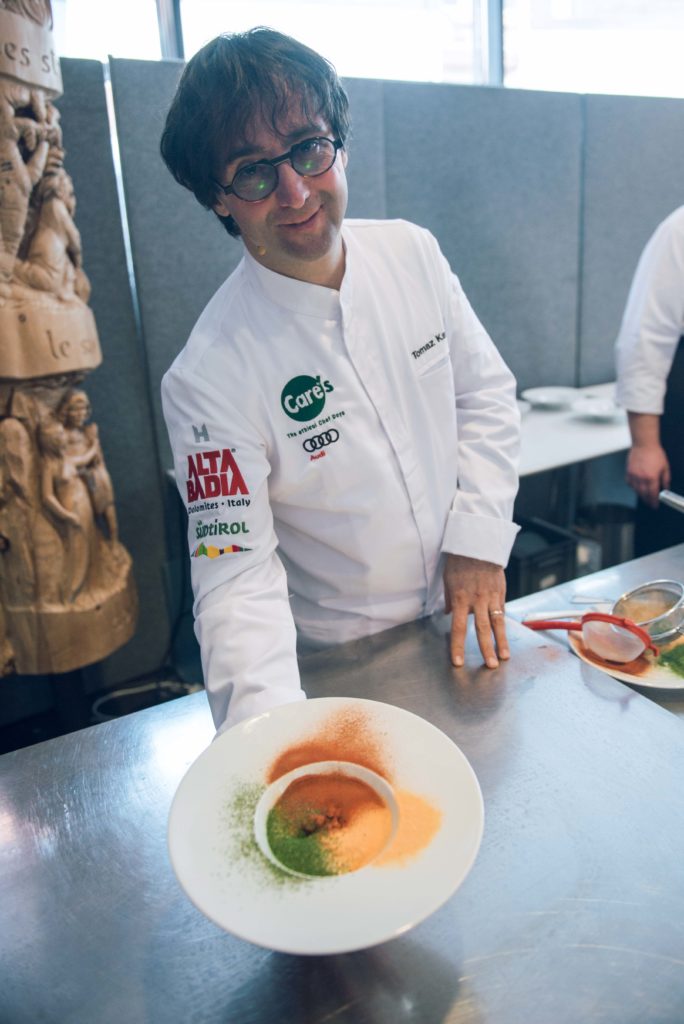 Tomaz Kavcic, Pri Lojzetu, Vipava – Slovenia, Rice no rice and taste of trout with dehydrated tomatoes powder, carrot and parsley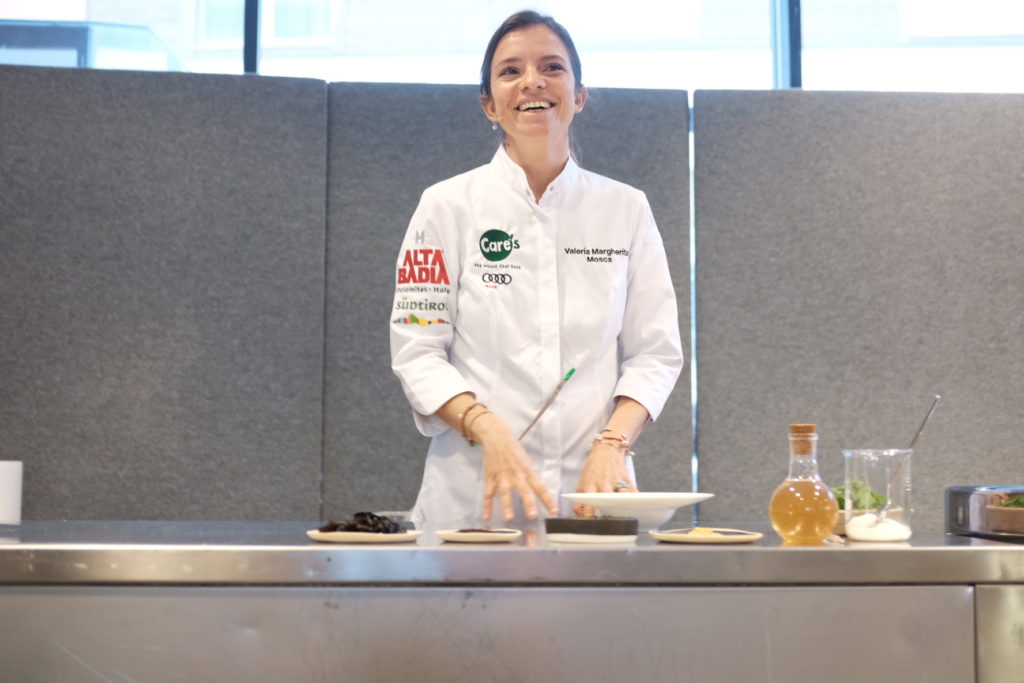 Valeria Mosca Wood*Ing, Desio (MB) at Cooking Masterclass Fermentation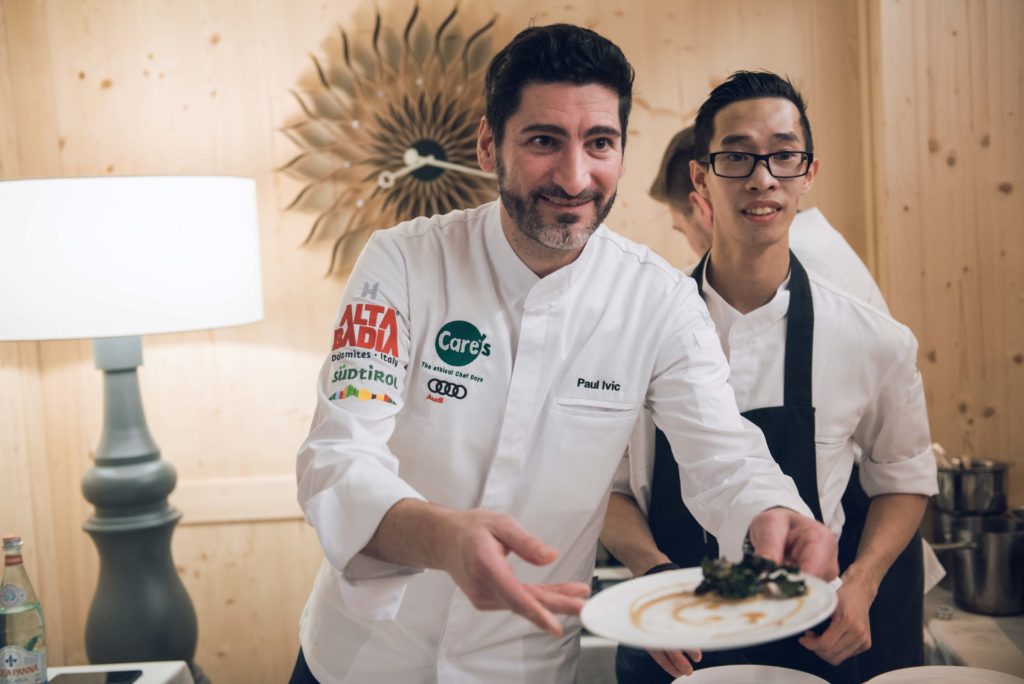 Paul Ivic, Tian, Vienna, Fiss barley, fir, egg – Final Dinner at Rosa Alpina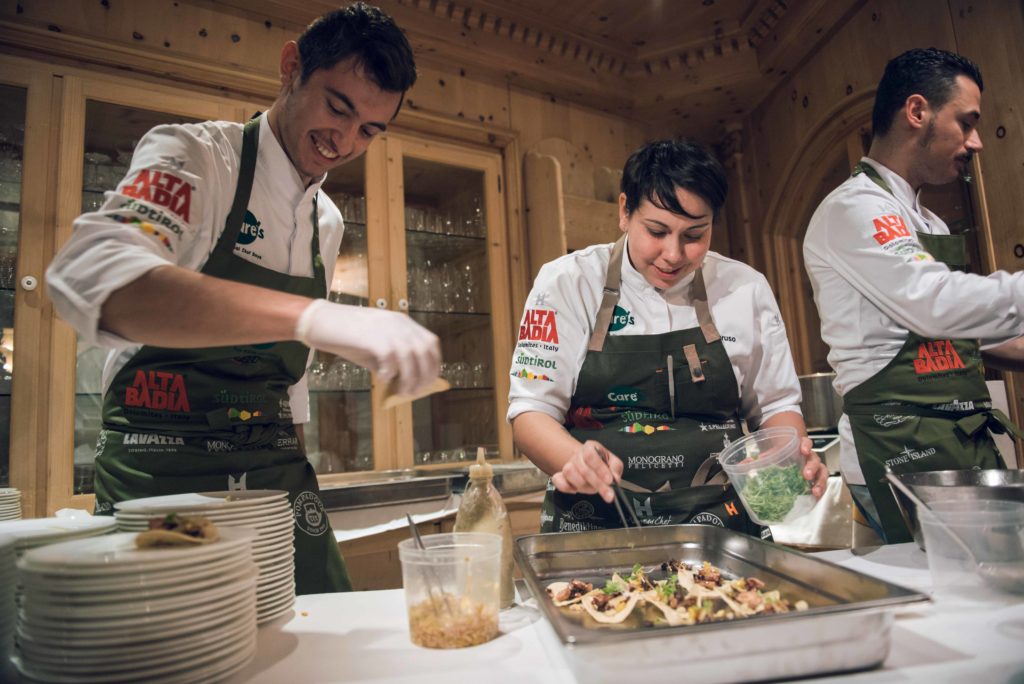 Martina Caruso and Giacomo Caravello, Hotel Signum – Final Dinner at Rosa Alpina