TUESDAY – #DAY 3
The most important part of CARE's are the talks and Tuesday's line up with key speakers saw this edition of CARE's at Ciasa dla Cultura masterfully furnished by exquisite pieces from design Lago.
Since the beginning of CARE's there have been more than 40 speakers from all over the world and with an appreciation of the contents discussed in the conferences first in Badia and then in Salina, for the Winter Edition 2018 CARE's proposed two new CARE's Talk.
In past editions, the subject of sustainability and ethical small businesses was first established and then the comparison of big companies and large projects was presented. This year, the talks go beyond the dish giving voice to companies committed to responsible management of resources for future generations, to promote the concept of sustainable development "Food Waste".
The Talks were preceded by a welcome breakfast offered in the Lavazza Bar on the first floor, where Caffè Tierra was accompanied by a selection of pastry from Andrea Tortora, pastry chef of St Hubertus (Rosa Alpina).
On the top floor of the Ciasa dla Cultra, Pompadour has also set up a relaxation area, where the multiple interviews took place – as in the Lavazza Bar.
The WELCOME SPEECH was curated by Norbert Niederkofler and Paolo Ferretti (founders of CARE's), then from 9:45 to 10:30 followed by the partner testimonials: Why we support CARE's, starting with VODAFONE, with Alessandro Canzian, head of marketing and sales corporate, and followed by Lavazza and San Pellegrino.
Michele Laghezza, Director of Marketing of Miele Italy, during the 'Sponsor Testimony – Why We Support Care', told how sustainability starts from lifew at home:
from the optimal conservation of food in the fridge, to the correct cooking that does not waste food, from energy saving with the use of induction, to an appropriate use of the extractor hood. "Sustainability is in fact a choice of quality of life," said Laghezza: it is the choice of living well, the little things, giving more value to our time and looking for a healthy and waste free diet.
The moderator of all the talks was Lisa Casali, an environmental scientist, blogger and writer, as well as a pioneer in zero impact cooking.
10.30am – 12.30am | Food and agriculture: sow small, grow large
What does sustainable feeding on a large scale mean in practice? What implications does it have on agriculture and nutrition?
They panel included:
Alessandro Canzian – Vodafone, head of marketing and sales at corporate level
Oscar Farinetti – creator and founder of Eataly and FICO
Christian Fischer – Director of the Agricultural and Agro-environmental Sciences course, Free University of Bozen-Bolzano
Harald Gasser – South Tyrolean farmer / grower, Aspinger farm
Paul Ivic – chef at the Tian restaurant in Vienna
Filippo La Mantia – chef at the Oste e Cuoco restaurant in Milan
Matt Orlando – chef at the Amass restaurant in Copenhagen, Denmark
Günther Reifer – founder, consultant and trainer of TERRA Institute, Bressanone (BZ)
Andrea Sinigaglia – general manager of ALMA, The International School of Italian Cuisine
Among the highlights, it emerged the importance of halving waste that is 1/3 of production or reduce meat production (Christian Fischer). Ours is a "planet in stress": 60% more food will be needed in 2050, but we already know that 1/3 of the food will be wasted. What followed was a discussion on how to save agriculture and the planet with sustainability specialists and young farmers.
LUNCH | 1.00pm – 2.15pm – WALKING LUNCH: NO WASTE
James Close – chef at Raby Hunt restaurant in Darlington, UK
Pino Cuttaia – chef at La Madia restaurant in Licata (AG)
Andrea Tortora – chef pâtissier of the St. Hubertus restaurant in San Cassiano (BZ)
2.15pm – 2.45pm | KEYNOTE SPEECH: AUDI – The new ways of sustainable mobility AUDI ITALIA – Fabrizio Longo – general manager
Furthermore, the Miele appliances and the DeManincor cooktops were the protagonists of the lunch at the Casa della Culture, in particular of the dish created by Pino Cuttaia at the Miele corner. Also Acqua Panna San Pellegrino, Ferrari sparkles and Mepra cutlery.
14.45 – 15.15 | INTERVIEW: The reduction and enhancement of food waste for sustainable recycling
SPEAKERS:
Maksut Askar – chef at the NeoLokal restaurant in Istanbul, Turkey
Leonor Espinosa – chef at the Leo Cocina y Cava restaurant in Bogota, Colombia
Lara Gilmore – marketing and communication manager at Food for Soul
15:15 – 17:00pm | Waste recovery and enhancement for a sustainable recycling
Reducing and recycling residual materials from food production, livestock, and wastewater worldwide is a challenge that can be overcome by approaching self-suf ciency practices. We are meeting small and big realities that, thanks to food recovery and donation projects and the exploitation of agricultural by-products for the production of renewable energy, have learned to reduce and reuse their scraps wisely.
Maria Chiara Gadda – member of the Province of Varese
Jan Hendrik van der Westhuizen– restaurant chef Jan in Nice, France
Stefania Lallai – sustainability and P.R. director of Costa Crociere
Marco Lucchini – General Secretary of the Banco Alimentare Foundation ONLUS
J P. McMahon – chef at the Aniar restaurant in Galway, Ireland
Michael Niederbacher – founder, president and CEO of BTS Biogas, Brunico (BZ)
Giancarlo Morelli – chef of the Pomiroeu restaurant in Seregno / Viu Milan and Bulk a Mi
20.00 | CARE's AWARDS DINNER RIFUGIO LUIGI GORZA IN ARABBA
This year's highlight dinner took place in a shelter at an altitude of 2,600 m surrounded by the enchanting landscape of the Dolomites, to admire the spectacular view of the Sella Group and the Marmolada glacier. Accompanied by a wide selection of mountain winemakers and of Cantine Ferrari sparkling wines, and Acqua Panna San Pellegino.
Aperitivo began with various cooking stations positioned around the Riifugio, among the dishes were, Liam Tomlin (Chefs Warehouse, Cape Town – South Africa) with a spicy Tacos of fried fish. Norbert Niederkofler performed by his young but incredible brigade (St Hubertus, San Cassiano), Sashimi of perch with verbena infusion; by Antonia Klugmann (L'Argine a Vencò, Dolegna del Collio (GO) who used the fermentation of red turnip and sauerkraut to make a warm soup of fermented fruit and vegetables, by Matt Orlando (Amass, Copenhagen – Denmark), a soft pumpkin, "Balls" salted pumpkin, black pumpkin peel, absolute symbol of no waste, Leonor Espinosa (Leo, Bogota – Colombia), fish roll, rice, 'titotè', snail copey, and Vladimir Muhkin (White Rabbit, Moscow) with red cabbage with three types of caviar (pike, trout and beluga)
The traditional CARE's Awards were sponsored by Ferrari, Monograno Felicetti and Marchesi 1824
23.00 | CARE's MIDNIGHT PANETTONE RIFUGIO LUIGI GORZA IN ARABBA
Then the desserts of Sven Wassmer and Panettone by Andrea Tortora completed the menu of the evening followed by music. Breakfast at sunrise was scheduled for 6:30 am the next day and many were eager to be ready to take on the mountain on Wednesday.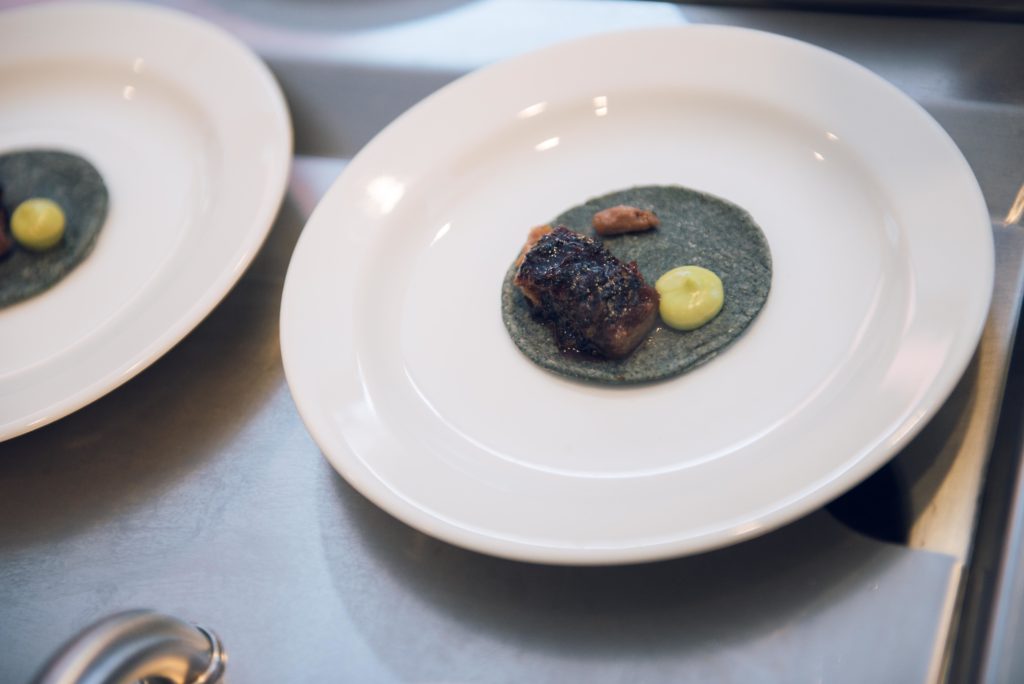 James Close, The Raby Hunt, Lamb with anchovy | Blue corn taco with lamb neck and salsa macha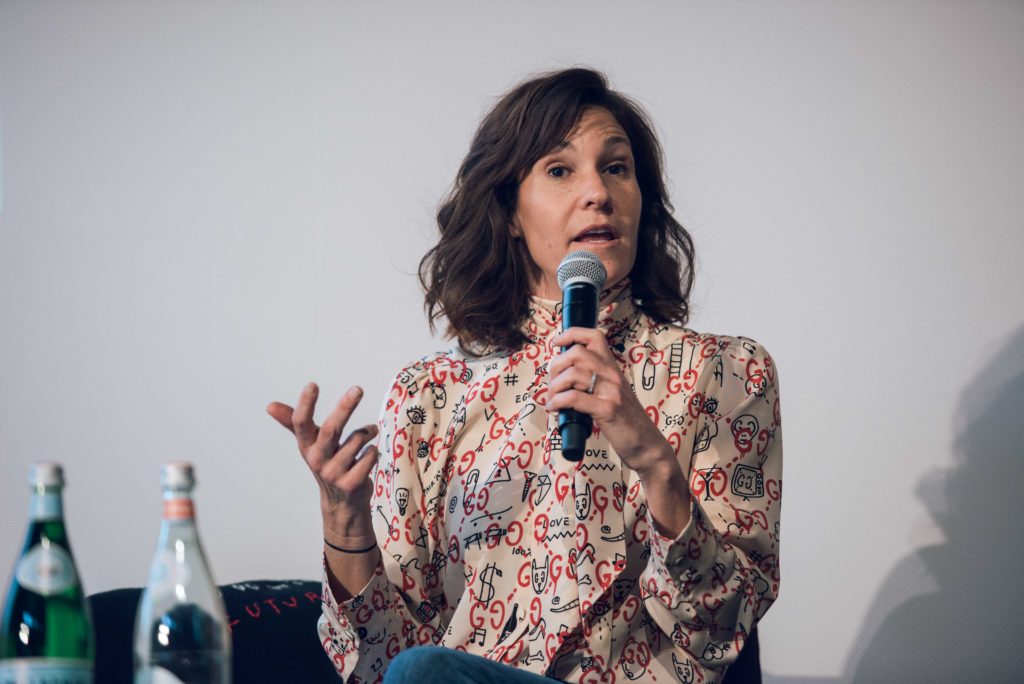 Lara Gilmore, Food For Soul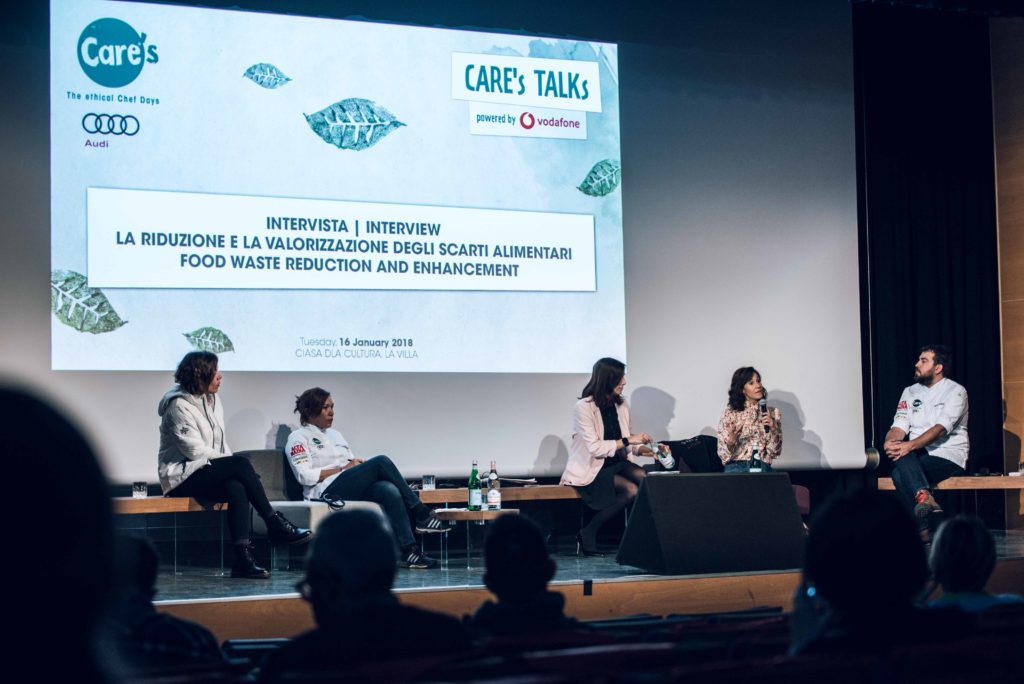 Interview: Food Waste Reduction and Enhancement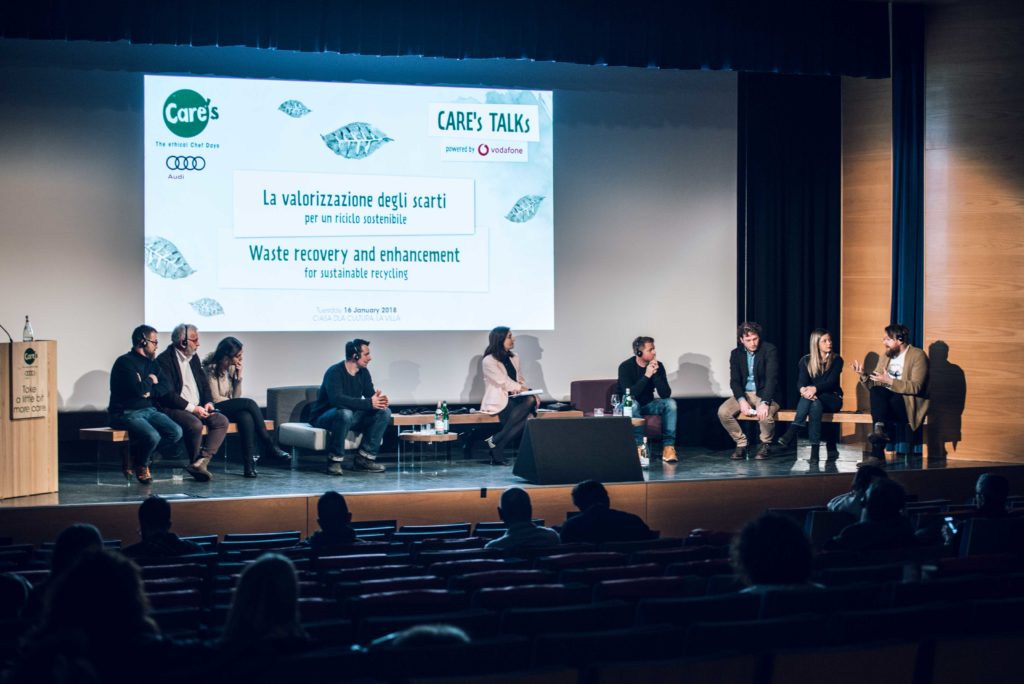 CARE's Talks, Waste recovery and enhancement for a sustainable recycling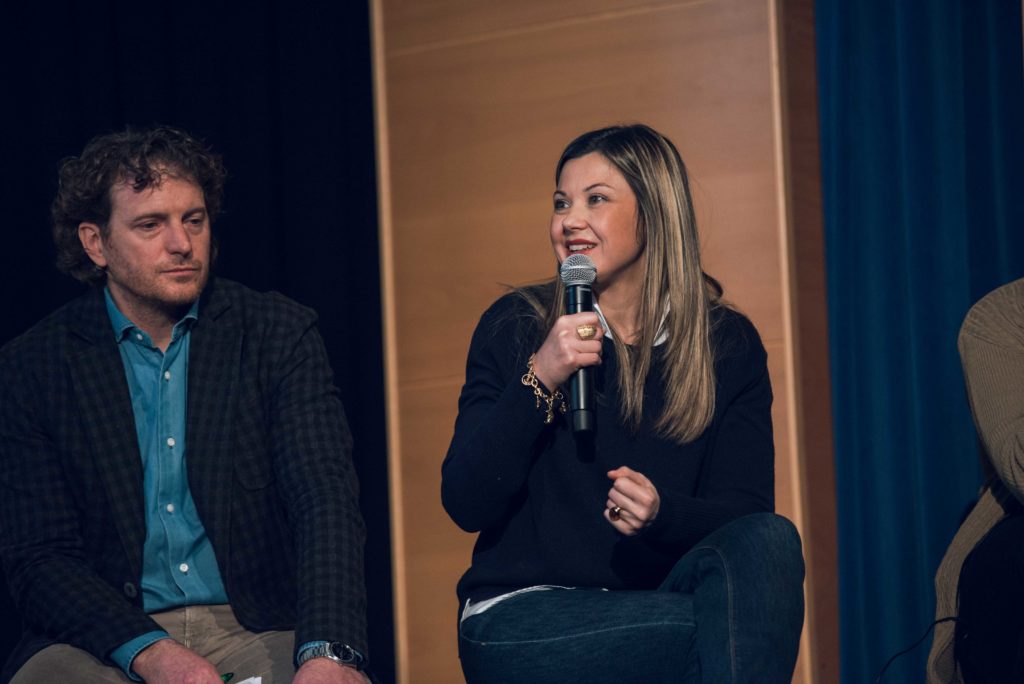 Michael Niederbacher, founder, president and CEO of BTS Biogas (Brunico) and Maria Chiara Gadda, member of the Province of Varese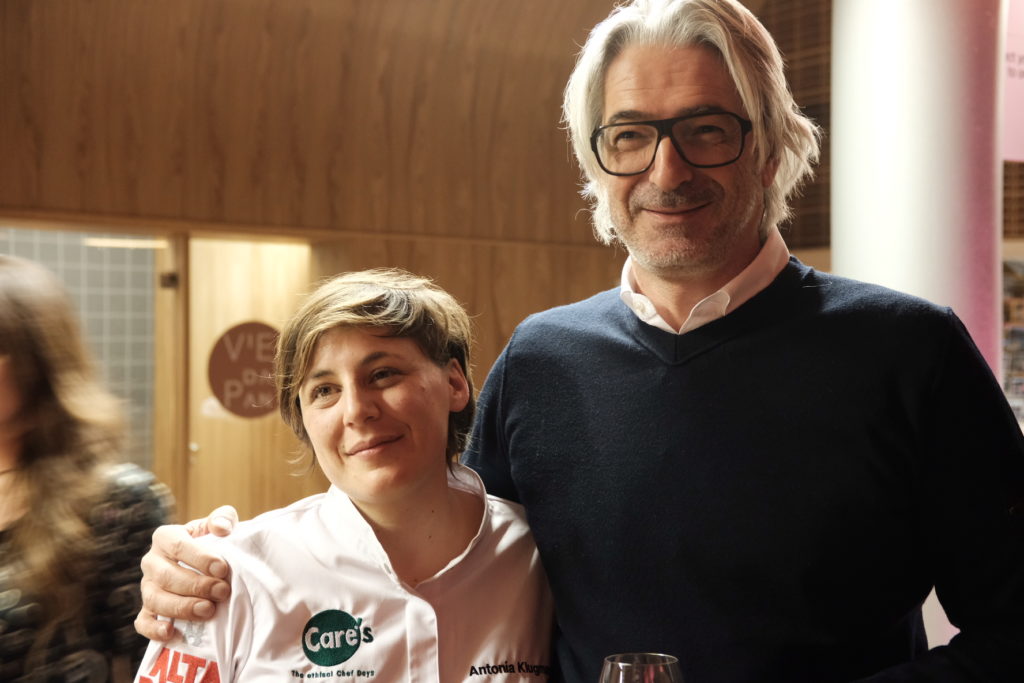 Antonia Klugmann, L'argine a Vencò, and Paolo Ferretti, owner of hmc and founder of CARE's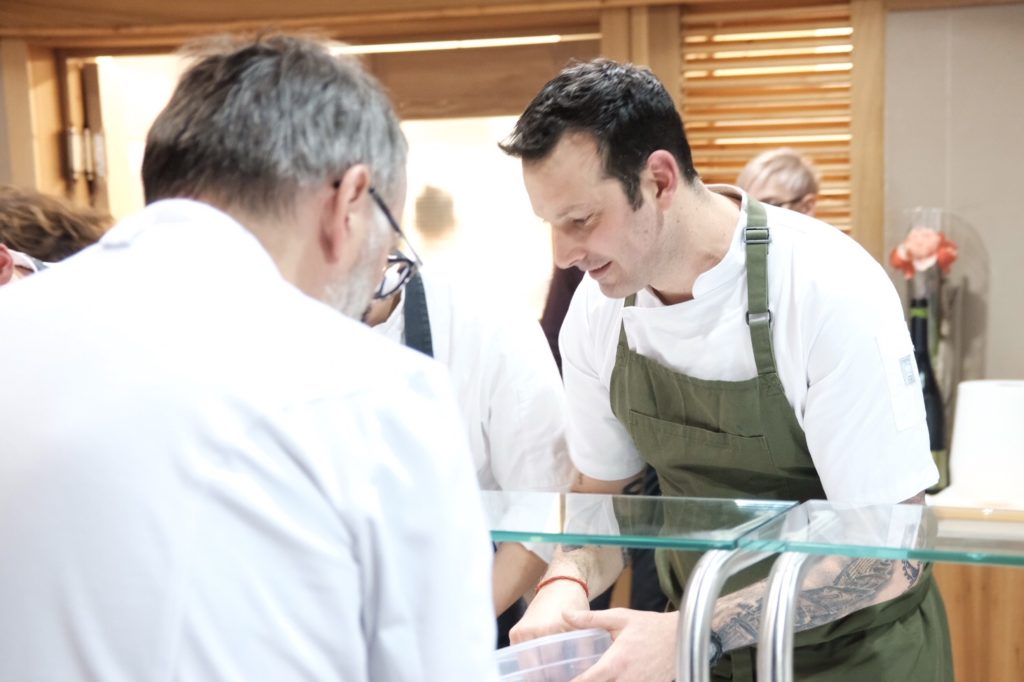 Norbert Niederkofler, St. Hubertus, and Matt Orlando, Amass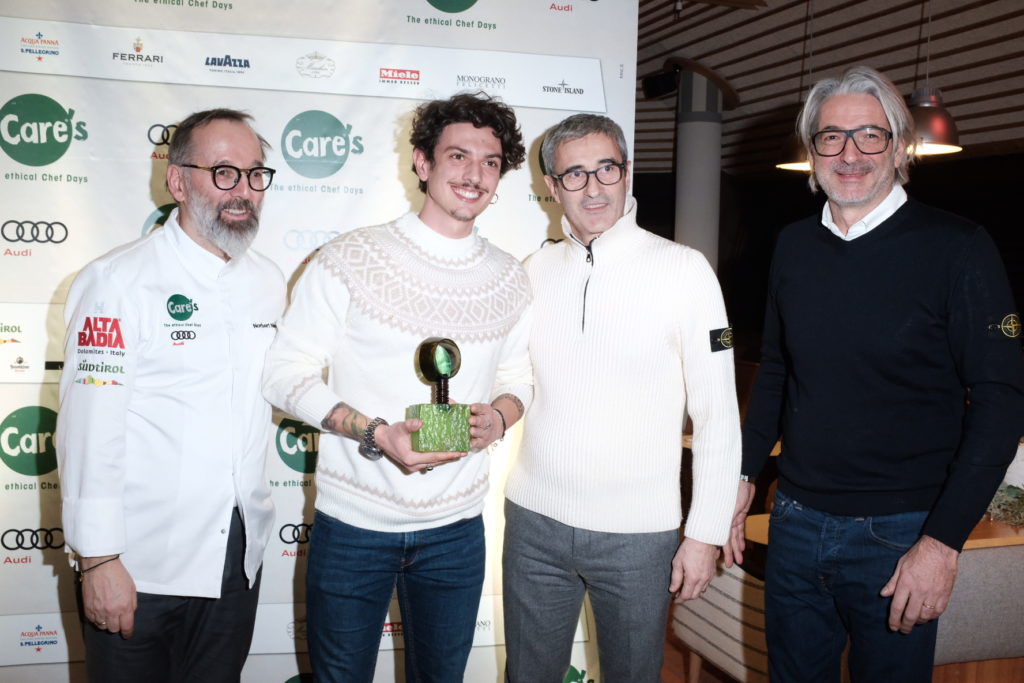 Norbert Niederkofler, St. Hubertus, Lorenzo Vecchia, winner of Young Ethical Chef, Riccardo Felicetti, Monograno Felicetti, Paolo Ferretti, hmc and founder of CARE's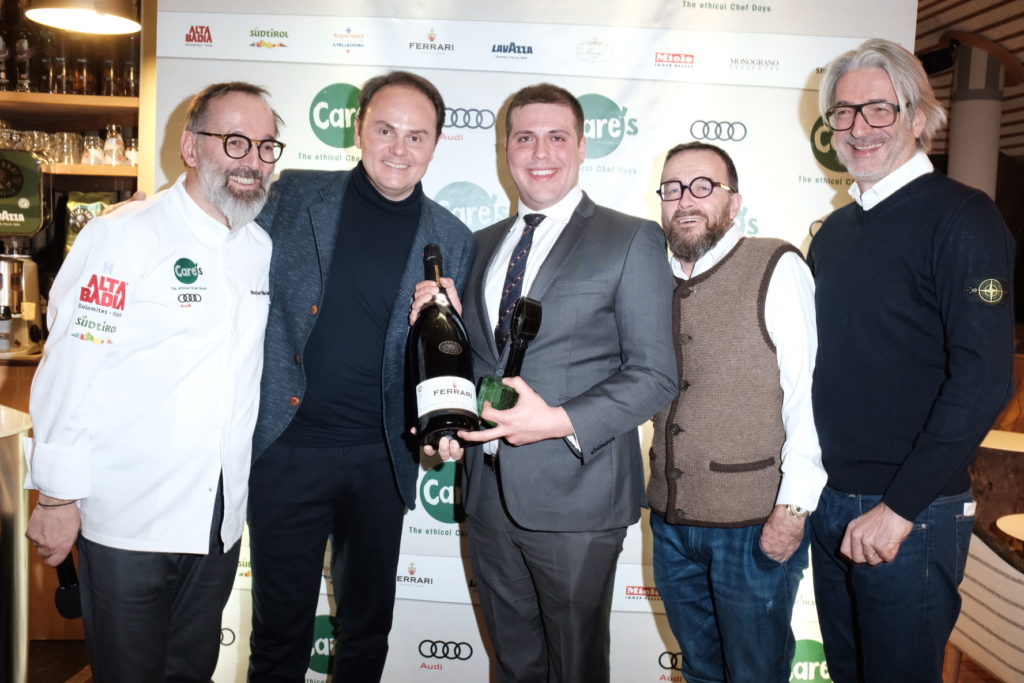 Norbert Niederkofler, St. Hubertus, Matteo Lunelli, Cantine Ferrari Trento, Francesco Chiarugi, winner of Young Ethical Hospitality, Giancarlo Morelli, Pomiroeu, Paolo Ferretti, hmc and founder of CARE's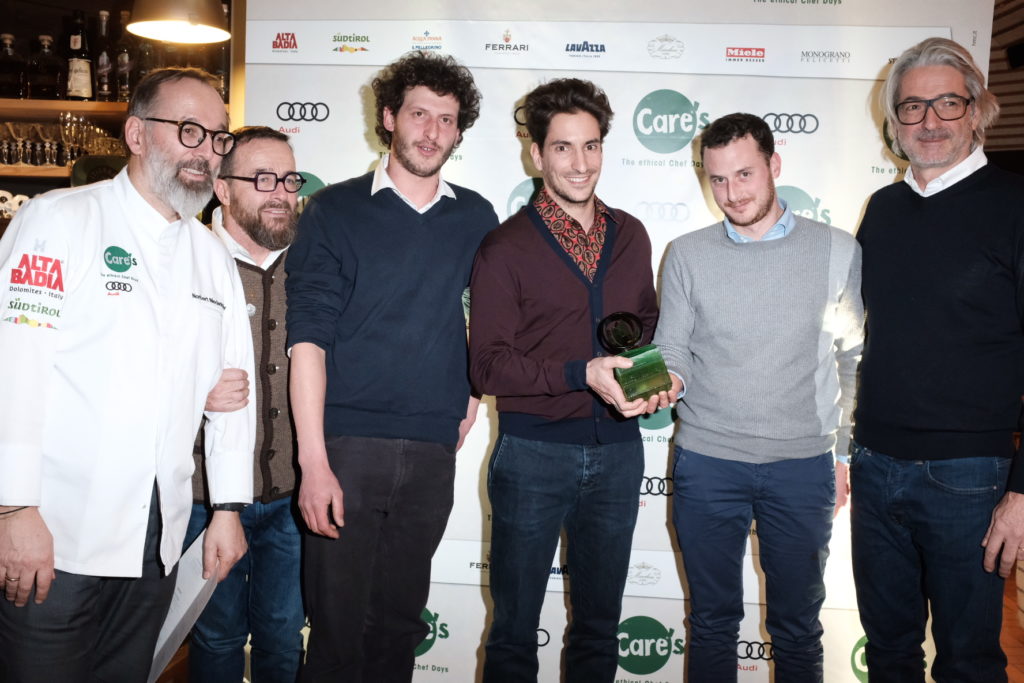 Norbert Niederkofler, St. Hubertus, Giancarlo Morelli, Pomiroeu, Matteo Trapletti, winner of Social Responsibility Award, Lorenzo Bertelli, Marchesi 1824, Giacomo Perletti, winner of Social Responsibility Award, Paolo Ferretti, hmc and founder of CARE's